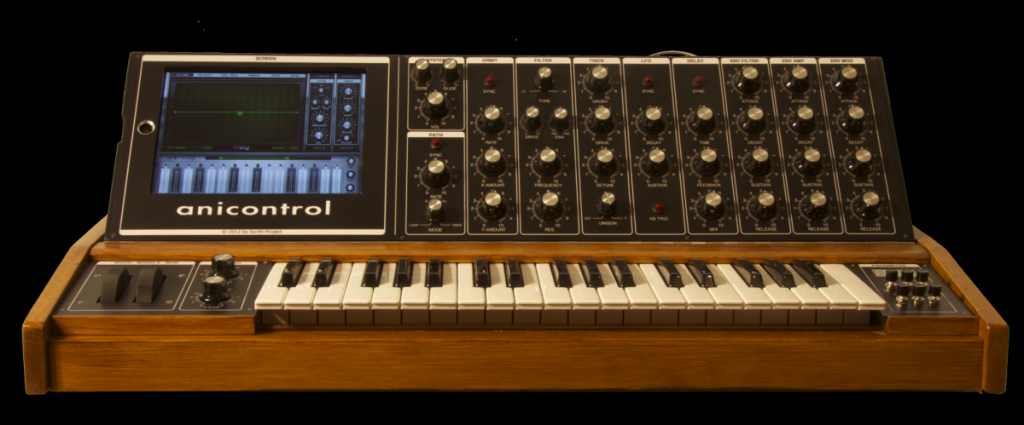 I've known about Anicontrol since March, but this latest post on Discchord showing another custom Animoog controller makes me share their existences with you!
The Synth-Project offers a page on Anicontrol, pictured above, an Animoog controller with the iPad inside. From their description:  "It's specially designed for Moog's iOS app. And works as a stand alone synth. The front panel is tiltable, like a Minimoog or Voyage. The controller has a 3 octave keyboard, pitch & modwheel […] there are two knobs for the X and Y pad of Animoog. The main front panel has 31 knobs and 5 switches to control the most important parameters of the Animoog app."
The second similar project is Vladimir Kolomiets' Animoog Midi Controller shown in the video below.
I admit I am personally fond of using Animoog directly on the iPad. I tried a few times playing Animoog with a midi keyboard, and I dramatically miss the capability to slide fingers in any direction to modulate Animoog sounds. I guess I'd need a giant touchpad-like controller to fully leverage what I like from Animoog's expressive capabilities.
That said, I'm not representative myself of Animoog players, and clearly there's capable people putting lots of Love in building their own Animoog controllers. There's plenty different ways of enjoying Animoog!