I have great news dear Animoog players! A new expansion pack for Animoog, and it's an excellent one! I'm happy to share with you the Animaal pack, which brings us 55 presets and 134 new timbres from Terra Nova Music.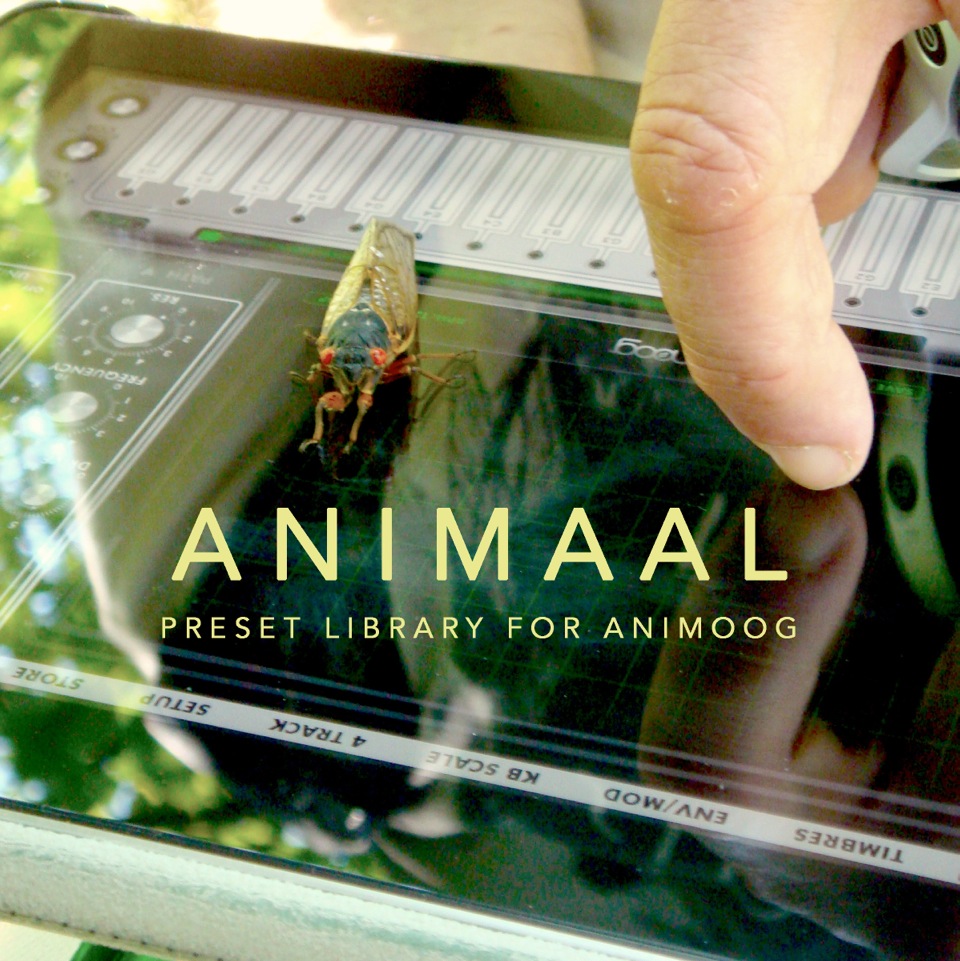 Here's the official announcement for the new presets being released today and announced on Animoog.org before anywhere else:
Animaal: You've never heard Moog like this.

    NY, NY:  Today Terranova Music released a set of jarringly organic presets for Animoog, Moog's synthesizer for iOS.  The Animaal library takes most of its inspiration from insects but also includes whales, birds, cats, and reptiles.  Technologist Matthew Aidekman sifted through hundreds of hours of ECM Artist David Rothenberg's private library of nature field recordings and painstakingly transmogrified them into magical instruments.
    "When David showed me Animoog," Aidekman said, "I was struck by its ability to make any sound playable. We've tested the limits of that by dumping tons of unusual biological sound in and making them play like professional instruments." Aidekman said. The results are uncanny.
    Animaal spans from a searing rattle-snake inspired leads to "galloping" basses but it's real power is in full spectrum drones and pads which seem to simultaneously strike the ear as single 3D objects and serve as complete living soundscapes.
    They're slimy, they're odd, they grow on you.  The beasts have been released.

On the Artists:
    An accomplished recording artist, writer, and thinker, David Rothenberg is Distinguished Professor of Philosophy and Music at the New Jersey Institute of Technology.  Matthew Aidekman has been a record producer, music technologist, and composer currently working on technologies specific to Indian classical instruments.
Here's a video showcasing some the included presets.
Regular readers of this site know I could not resist testing and creating Animoog solos from these new presets. Here's the first one I played with Animaal's Laughing Lyrebird preset. As usual, it's raw Animoog improvisations, no overdub/effect, just Animoog played live with these marvelous presets :-)
The second one is played with Animaal's Grunge Drone preset:
And a third one with Animaal's VoxAmpTremolo preset:
With quality presets such as these ones, I'll certainly spend more time exploring the whole pack! Now it's your turn to play Animoog with these wonderful new presets, you can get the Animaal presets and timbres for $3,99 directly on Bandcamp.
Buying the presets will also get tracks from the Animaal pack creators, as well as improvisations I just share with you. On the preset's download page, you find these pertinent additional details about Animaal:
"55 presets based on 134 new timbres derived from the sounds of hermit thrushes, humpback whales, seventeen year cicadas, superb lyrebirds, snowy tree crickets, various tree frogs, swamp demons, rainforest ambiences from Senegal and Cameroon, purring cats and European marsh warblers–quite simply, the best more-than-human musicians on the planet. 
The cognoscenti will realize that Animoog works with wavetables, not samples, so music programmer extraordinaire Matthew Aidekman has painstakingly converted nature sound samples collected by interspecies musician David Rothenberg into timbres that Animoog can use, and assembled them to make some of the most unique musical tools ever contained on an iPad."
Yes, that's one more reason to update the table of Animoog presets, now featuring over 2,600 unique presets! While I tackle an update, enjoy those great new Animaal presets and timbres :-) — Alex / Satri
Still reading and ready for something a bit unusual? Head to 8 minutes in the video and see Animoog played in the wild! Yes, that's from Terra Nova Music as well :-)