I'm happy to write to you and I bring good news: an updated version of the Table of Animoog Presets, adding 572 new presets and 274 new timbres to Animoog from 6 expansion packs. This table that I'm gladly compiling for the community of Animoog players now lists a total of 3,148 presets and 5,129 timbres for Animoog. This gives us access to a large diversity of presets to explore for hours and hours.
Here's the six new Animoog packs available.
Song-Haven MPE
The new  Multidimensional Polyphonic Expression (MPE) MIDI version of the Song-Haven pack bring 50 new presets to Animoog for $6,99. We were lucky to have Steffen Presley explaining the process to configure presets for the MPE MIDI standard supported by lots of interesting controllers such as the LinnStrument and the Seaboard.
Animaal
Then there came the wonderful sounds of animals with the Animaal pack from Terra Nova Music which brings 55 new presets and 134 new timbres for $3,99.
For this Animaal pack announced in October 2016, I presented three improvised solos done with the Animaal Animoog presets. Here's a fourth one with Animaal's Ear Worm preset:
RUST(i)K X & K
Sound designer RUST(i)K brought us the X & K pack which contains 251 new Animoog presets and 159 new timbres, available for free — RUST(i)K suggests a donation. RUST(i)K previously shared with us two large free Animoog packs, download them today :-)
Here's a track I improvised for this announcement, played with the preset named 'Bass Oh Boy 2.0' from the RUST(i)K X pack:
analogue, I wish you were: Otherness and Stranger Things
Just like last year, 'analogue, I wish you were' brings us two new packs of Animoog presets, Otherness and Stranger Things with respectively 119 and 25 new Animoog presets and available for $1,99 and $1 on Bandcamp. It's the first time we mention those new packs, let's look at their descriptions:
Otherness: "119 presets containing otherworldly textures, ambient pads, unruly FX, and many other eccentric sounds only Animoog could produce!"
Stranger Things: "22 presets inspired by the warm vintage mood of the "Stranger Things" Netflix series soundtrack"
I like these presets. The following track is an improvised solo played with the Animoog preset named 'PWM soft chords' from William McFarland / analogue, I wish you were's Otherness pack:
Anigrit
Sound designer Sound of Izrael gave us 121 free Animoog presets last year, this time he's back with a new pack named Anigrit, which brings an additional 75 new presets and is sold for $5,99 on eBay. It's the first time we mention these presets on Animoog.org, but for those amongst us whom couldn't wait, we mentioned it on Twitter as soon as they became available:
New #Animoog presets from @IzraelShmulik ! Yeah, about time I update the Table of Animoog Presets https://t.co/SfrB2JMvXc :-) https://t.co/StBCqIs74N

— Satri (@animooglove) May 10, 2017
Here's the video presenting the new Anigrit presets in a nice track created entirely with those new Anigrit presets:
Table of Animoog Presets version 1.6
With all those new packs, here's what the new version looks like: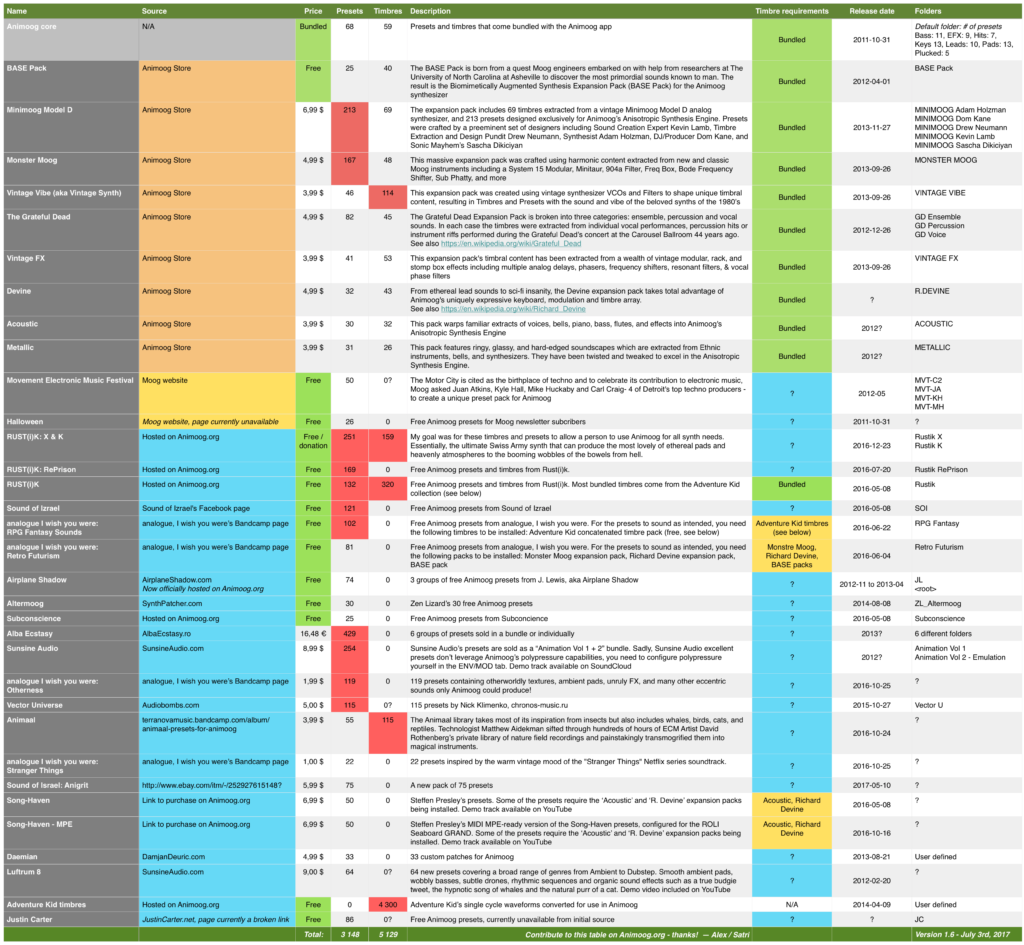 and it provides direct download links to these presets packs, contains guidelines for submitting presets along with some more info. Don't forget the instructions to easily install those presets on your iPad without relying on iTunes.
Players will also be happy to hear that since my last blog entry, two minor versions of Animoog have been released, version 2.4.6 in April and 2.4.7 in June, bringing minor bugfixes and one small feature for those wanting to play along with existing tracks: Animoog now allows Apple Music to continue playing when Animoog is in the foreground. Animoog for iPhone followed the same path and got the same new feature, reporting now as version 1.3.3.
I read reports that the current version of Animoog doesn't support iOS 11, Apple's upcoming iOS version currently only available as a public beta. It's extremely likely that Moog Music will update Animoog over the coming weeks to fix compatibility issues with iOS 11 before it launches.
Enjoy the new Animoog presets! — Alex / Satri