The very first thing to do is to read the album's announcement where you'll learn why this music album is special: all tracks are single-take improvisations played with the Animoog app, no second track no loops no effects no sequencing no complex or expensive music gear, just a single preset played live on the iPad => anyone can easily play similar tracks live on the iPad, try it yourself – the presets I used are included in the table below. The presets come from various available Animoog expansion packs. These types of sounds and performances are best enjoyed by listening with quality headphones.
This album has been featured by Moog Music Inc themselves and mentioned in several articles and music forums.
This album is distributed and promoted by the Apptronica label. You can get this album for free (CC-BY creative commons-licensed) through pay what you want on Bandcamp , also available directly on iTunes or on Google Play and literally hundreds of various popular music platforms such as Spotify and others. Click here to listen to all tracks.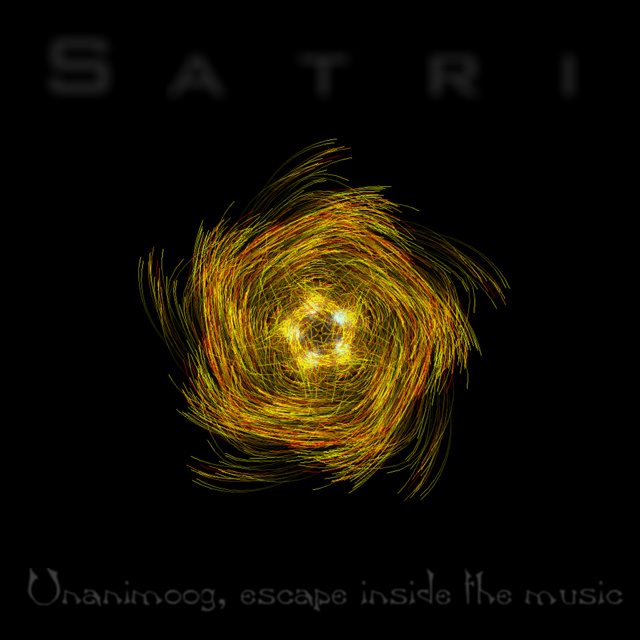 Track list for the 'Unanimoog, escape inside the music' album
#
track name
time
Animoog preset
track cover art
1
Welcome January
1:22
MiniMoog
Drew Neumann
Filter Shades
2
open the door

3:23
MiniMoog
Drew Neumann
Filter Shades
3
January planet



3:10
Acoustic
Multi Split
4
January moons

1:57
Acoustic
Multi Split
5
Curious explorer

3:29
Daemian 1
Phatty Saw
6
alive

1:29
Metallic
Defenders Of 8 Bit
7
February
Alien sunrize
3:41
Daemian 1
Where U Press
8
Bring it back
1:41
MiniMoog
Drew Neumann
Finger On The Pulse
9
Forgotten already

2:59
Unknown preset
with AUFX:Space
let me know if you
find out
10
fly
2:06
Daemian 1
Poly Control
11
Soft landing
2:38
Daemian 1
Predator Echoes
12
March focus

3:43
Richard Devine
Poly Chrome
13
Brutal awakening

1:30
BASE Pack
Heartburn Lead
14
Standing up
3:07
Airplane Shadow
Horizontalist
15
And looking around
1:39
Monster Moog
Freq Shifted
16
Mars searching

1:51
Monster Moog
Freq Box
17
index one

0:27
Minimoog
Adam Holzman
Digi Lead 1
18
index two
1:10
Minimoog
Adam Holzman
Digi Lead 1
19
index three
3:26
Minimoog
Adam Holzman
Digi Lead 1
20
index four
1:53
Minimoog
Adam Holzman
Hollow Lead
21
index five

2:48
Minimoog
Adam Holzman
New Age
22
still floating
3:04
Daemian 1
Predator Echoes
23
Fools in April
2:37
Acoustic
Yaaooohaah
24
April avril
2:07
Acoustic
Yaaooohaah
25
Feel what you are
1:28
Leads
Hard Octa Fuzz
26
and let it go
4:50
Minimoog
Kevin Lamb
Soft Attack Lead
(modified)
27
Lotus
4:02
Minimoog
Drew Neumann
Resonant Trill
28
back from Roatan
5:42
Daemian 1
Phatty Saw
29
Landing in Montreal

3:18
Acoustic
Multi Split
30
luggage
1:45
Acoustic
Multi Split
31
empty
1:35
Minimoog
Drew Neumann
Filter Shades
32
May bloom
1:34
Minimoog
Drew Neumann
Zone Splits
33
May flowers
3:13
Minimoog
Drew Neumann
Zone Splits
34
May flower
3:34
Minimoog
Drew Neumann
Zone Splits
(modified)
35
May fleurs envolées
1:48
Metallic
Darkly Melodic
36
and dance
2:47
Monster Moog
Sub Phat Repeater
37
don't June
1:59
Daemian 1
Where U Press
38
It won't stop
2:32
Daemian 1
Echoes n weeps
39
grinding
2:55
Daemian 1
Medi Pad Lead
40
drum for me
2:08
Minimoog
Sascha Dikiciyan
Evil Arp
41
Summer can come
2:06
Grateful Dead
VoxWowowow
42
retour aux sources 2

2:47
Minimoog
Adam Holzman
Square Res Chord
43
Pop up July
1:46
Vintage Vibe
CS Ringmod
44
Back to the sun
2:08
Daemian 1
Back To The Sun
45
And back to space
3:06
Unknown preset
let me know if you
find out
46
will it be enough?
3:32
Justin Carter
Lead A
47
It can
2:34
Justin Carter
Clav