We all have unique stories. Mine, like many others, had its fair dose of music as a kid. The family piano of my early years led me on a path to release my own piano improvisations on the 'Beau temps' album, released in 2002 under the royalty-free 'open audio' license – before Creative Commons licenses existed and at a time when it was unusual to provide albums for free on the Internet. The world has changed, and so did I. While music remained my favored connection with the intangible universe, I've been delighted to have my future enlightened by my girlfriend and now our two daughters.
It's only recently that I discovered the richness of sophisticated electronic sounds. This new chapter really begun with the advent of Moog Music's award-winning Animoog music instrument. After I came to know Animoog through unexpected lucky events, I became enamored with its expressive capabilities and it became a hobby to explore Animoog sounds on the Friday nights we were at home, once the girls were in bed. Wanting to share my enthusiasm and contribute to a same-minded community, I launched Animoog.org in March 2014 to discuss and document everything revolving around the app. While lots of the work remain to be done, the website does offer value and is the only place where you'll find a list of third-party Animoog expansion packs. My early 2013 Animoog improvisations sounded good enough to me that I decided to make a collection. While my playing improved, I started a second collection in January 2014 with the intention of making an album out of it. In August of the year I had enough material to prepare the release of most of those tracks on what became the 'Unanimoog, escape inside the music' album.
In a world where there's hundreds of excellent albums being made available daily, what excites me about what I propose with this second album is that you don't need anything special other than the Animoog app to reproduce or play similar tracks. They're single-track improvisations with no loops, no sequencer, no external effects, no complex or expensive music gear, everything is done live playing Animoog. I invite you to learn more in the album's announcement and to listen to the tracks themselves which are available for free. I hope you're amongst those who might get inspired by this album and enjoy playing Animoog yourself.
Alex . . Satri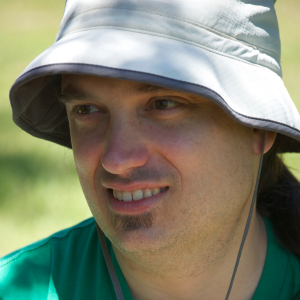 Links
'Beau temps', my first music album, piano improvisations
Animoog.org